Keep Your Car in Top Shape with Genuine Ford Parts and Accessories in Jackson, OH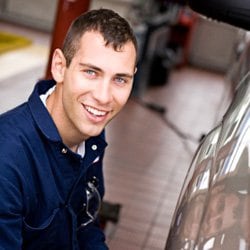 Here at Mark Porter Ford, we know that our job has only just begun after you've chosen a new Ford car, SUV or truck. Our Parts and Service Centers work every day to ensure that your car remains safely on the roads around Athens, Chillicothe, Lucasville, Portsmouth and Jackson, OH for many years!
Now, we can't stress enough just how important it is to only use Genuine Ford Parts and Accessories. That's because factory-backed Ford Parts and Accessories have been specifically designed and engineered to perfectly fit your Ford model.
The fact is that you're doing your car a major disservice by using anything but Genuine Ford Parts and Accessories. You just won't enjoy the same level of quality and craftsmanship if you decide to go with after-market parts in your car.
When it comes right down to it, there's no choice at all. Genuine Ford Parts and Accessories are the only way to ensure that your car performs safely and efficiently for thousands of miles! Of course, all Ford parts provide quality assurance and extended warranty coverage as you'll  discover that there's just no substitute for the real deal!
Don't waste your free time searching for a replacement part when our Ford parts specialists can handle every step of the process. We'll help you find the exact replacement part and perform a quick installation to get you back on the road. If a part is out of stock, we'll place an order right away and contact you as soon as it arrives.
Now, take a moment to browse our monthly selection of Parts Specials to enjoy discount pricing on Genuine Ford Parts and Accessories. Then, just fill out the simple form below before visiting Mark Porter Ford in Jackson, OH to get started at your earliest convenience!